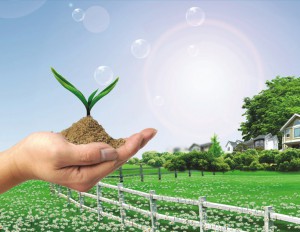 A green building, or a sustainable building, is the practice of creating and using healthier and resource efficient mode of construction, renovation, operation, maintenance, demolition and disposal.
A green building has been characterized to have maximum positive impacts from its existence and minimum negative impacts throughout the life of the building in existence.
Green buildings features are measured under followings criteria:
The environmental impact: The building will have present and future when considering such factors as energy consumption, efficient use of space, and recyclability of material of construction in order to conserve the natural resources.
The economic impact: e.g. reducing operational cost, enhancing assets value, improving productivity and optimizing life cycle performance of the building.
Health & Society: by improving quality of air, comfort for the occupant and overall health conditions improvement.
This concept has immerged widely in last few year and Indian Green Building Council (IGBC) and it has provided LEED rating program to quantify the measurement of quality of green rating to encourage the implementation of green concept.
The IGBC cites the following advantages for green building:
A decrease in a building's operational costs and increase energy savings
Reduce solid waste
Enhanced asset value and profits
Improved employee productivity and satisfaction
Optimize life-cycle economic performance
Improve air, thermal and acoustic environments
Contribute to overall quality of life
Green Product Solution from SMODI INFRASTEEL
With stricter codes and new standards calling for increased use of green building materials, as well as the Challenge to create carbon neutral and net-zero energy buildings, we have the products to meet these needs.
Cool Colors for Metal Roofing
We offer cool paint colors for all of our metal roof panels. When properly used, considering the environment and the slope of the roof, a cool roof can reduce energy consumption, providing significant cost savings while helping to mitigate urban heat islands.
This green building material offers Solar Reflectivity ratings and Solar Reflectance Index numbers to show the ability of our paint coatings to reflect and emit the sun's energy. Solar Reflectivity (SR) or reflectance is the ability of a material to reflect solar energy from its surface back into the atmosphere. The SR value is a number from 0 to 1.0. A value of 0 indicates total absorbance and 1.0 indicates complete reflection.
The Solar Reflectance Index (SRI) is used to determine compliance with LEED requirements and is calculated according to ASTM E 1980 using values for reflectance and emissivity. To meet LEED requirements, a roofing material must have an SRI of 29 or higher for steep slope roofing and a value of 78 or higher for low slope roofing when evaluated under medium wind conditions.
Insulated Metal Panels
Insulated metal panels qualify as green building materials for a number of reasons. First, they have high R-values which provide superior thermal performance and reduced energy consumption. This allows for smaller greenhouse gas emissions and reduced energy costs for building owners.
Insulated metal panels qualify as continuous insulation where required by the International Energy Conservation. This allows for insulation to be free from significant thermal bridging.