INTRODUCTION
Steel is considered as most preferred material for all infrastructure projects including high rise building construction used for commercial building, office buildings, hotels, hospitals, schools & colleges, shopping mall, multiplexes, retails, multilevel car parking system and many other multipurpose buildings etc. due to its versatile quality and   flexibility to shape. A combination of steel and concrete gives immense benefit to the design for its strength, durability and overall cost.
Steel framing construction is more than 40 years old concept globally and Europe and American cities are made majorly in steel construction since 1970. May be due to labour crisis and strong economy, affordability of steel construction was quite easy for them and it gave ease to grow this technology globally. India is a developing country and being expensive material as steel and ease of cheaper labour force, there has been resistant to use steel framing technology for multi-storey construction in past.
Over a period of time especially in busy city and metro cities, it has been experienced that concrete construction is next to impossible for various reason. To be specific difficulties in working in busy area, storage issue, labour crisis, shortage of skilled manpower in concrete work, time limitation/delay, inconvenience to neighborhood and commuters   are the key concern which results in project overrun on time as well as cost. It has been increasing day by day and become so difficult to think in RCC.
Last few years are witness that all investor, users, builders & developers are looking for alternate material for construction and steel has been found the next cheaper material to meet the expectation over RCC.
Use of steel for infrastructure Multi-storey construction has some unique advantages like:
High strength to volume/mass ratio.
Speed in construction and time saving in comparison to RCC, resulting in early ROI & cost saving.
Steel frames are lighter in weight in comparison to RCC frame.
Lighter foundations are required for steel buildings due less weight than RCC resulting cost advantage on civil.
Occupies less space and can be designed for larger span/column free spaces, resulting greater coverage, this helps in large open office space and large auditorium and concerts hall.
Less beam depth resulting in less wastage of head room
Ease of interface for all type of material e.g. glass, ACP, Concrete, brick, gypsum board or any other clad material.
Possibility of different paints to meet fire safety guidelines.
All utilities can be passed through beams and joist.
Possibility of expansion with least difficulties as compared to RCC & easy to modiIfy if necessary.
Steel frame construction is more suitable to withstand lateral loads caused by wind or seismic.
In steel construction, steel x-bracing or sheer wall system can be provided for greater lateral rigidity in order to withstand wind stress.
Steel is green in nature and can be recycled up to 95 %
Quality of the end product is un-match as manufacturing takes place in plant under controlled environment with stringent quality check.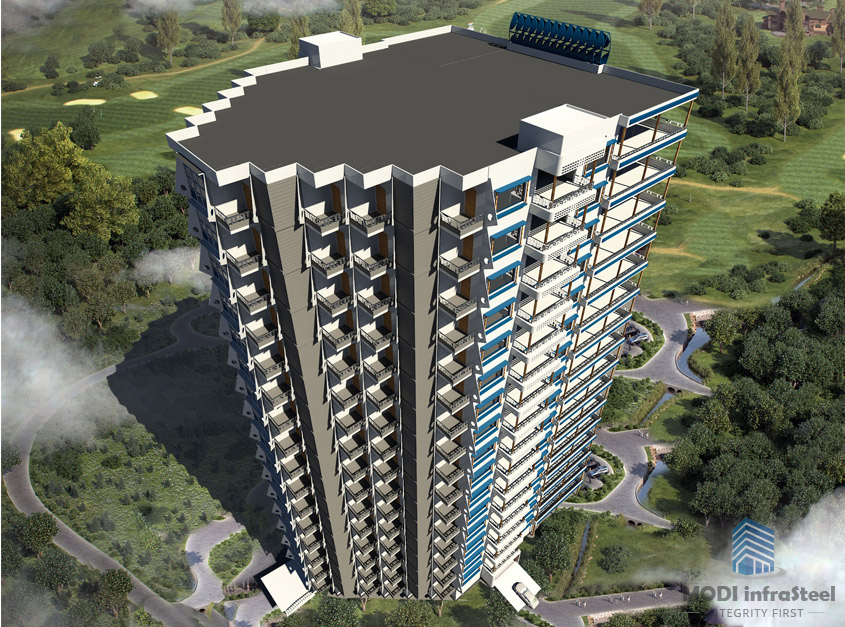 SMODI INFRASTEEL offer turnkey solution from concept to commissioning as single window for offering solution for complete steel framing system for various applications. At SMODI INFRASTEEL, we offer:
Understanding of the requirement, functional need, services, architectures ,fire, dry-wet system, ventilation, façade etc. complete in all respect before initiating the activities
Design and modeling of complete steel framing as composite steel structure design.
Adequate design of all connections to create erection easiness.
Interchangeability of the members to create easiness for erection further.
Advance planning for mep layout and all necessary cutouts etc. are planned and made in advance.
All necessary loads for various concerns such as lift, air-conditioning, any superimposed load, wet area, partitions etc. are properly planned.
Providing fire coating on steel structure for by-lays requirement and safety to the life.
Cladding and façade solution to the building.
Our objective is to optimize the steel design while meeting the functional and stability requirement completely in all respect.
MATERIAL STANDARDS
Use of high strength steel of yield strength from 345 Mpa to 550 Mpa.
Use of hot rolled steel sections from 245 Mpa to 550 Mpa YS of various section such as H, I, C, L, U etc. to achieve max. Steel optimization
Cold form steel for light framing system
Cold form metal decking system
Sheer stud to meeting concrete steel bonding need for composite construction
Shot blasted steel framing to international grade of surface cleaning of steel
Corrosion resistant priming on steel frames/members.
Standard painting on steel of low VOC using Synthetic enamel paint or Epoxy paint
Fire resistant painting to meet safety requirement as per governing law.(Optional)
High strength bolts for primary and secondary framing system with minimum 8.8 grade steel.
Use of green materials to achieve high LEED rating
Provide complete interface solution for internal and external needs whether external glazing / ACP / Clad support / brick   or internal MEP/ Ceiling / internal clad / partitions / water proofing / floor finishes or any other service needs
DESIGN OPTIONS
STAAD/STAAD-PRO/ETAB is best suited engineering & analysis software used for optimal section design. Steel structures are engineered as per IS, IBC and other international codes & guidelines. Flexibility to offer built-up, tubular, pipe, box-section, H-beam or other hot rolled section depending upon design need and customer requirement. We offer steel structure in all grades of steel ranging from 245 MPA Ys to 550 MPA Ys in all available sizes and shapes.
BUSINESS MODEL
We at SMODI INFRASTEEL, work in various business model with the customer i.e.
Design, Engineering, Supply & Installation of steel structure system & buildings.
Detailing, Supply & Installation of steel structure system & buildings (Design by customer)
End to end solution involving concept development, architectural and project management consultancy, design, engineering, supply & installation complete project construction and commissioning.
Project Management Consultancy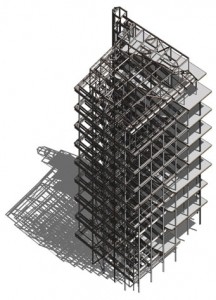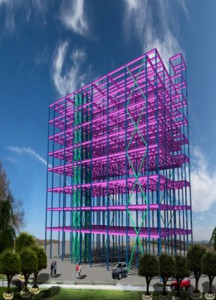 MULTI-LEVEL CAR PARKING SYSTEM IN STEEL (MLCP)
Multi-level car parking system is most demanded system specially in metro city and important places where availability of space/land is very difficulty and is very expensive. In busy areas like shopping area, hotel, hospitals, railway station, bus terminal, airports, temples etc. are the places where there is acute shortage of space is there and even if small space is available that cannot accommodate enough car park. In view of these difficulties, it is necessary to have Multi-Level car parking system which may be of various type. Since in busy area it is quite impossible to construct such Multi-Level structure in concrete for many year of project gestation. It is mandatory to have off-site construction technique so that site work should be minimized to large extent. Steel is the best suited material for MLCP construction as entire consent formulation, design, engineering & manufacturing can be done off-site and only foundation work and assembly of steel framing system can b done at site. This type of construction is commercially competitive as well great time saving.
There are various type of Multi-Level car parking systems are available however for better economics following options are widely used worldwide.
Puzzle Parking System
Tower Parking System
Steel Structure Framing Parking
These parking systems can be designed with mechanical, hydraulic as well as automatic parking system. In case of free Steel structure Framing Parking; it can be made as semi-automatic as well fully automatic control retrieval system.
ADVANTAGE OF USING STEEL IN MLCP
Large column spacing offers wider clear area for parking
Optimal use of spaces specially for metros and large cities
Faster in construction so inconvenience for short time only
No disturbance to locality or nearby areas as no fabrication takes place at site & very less storage space is required
Very low operational and maintenance cost
Secured and environment friendly
Easy to modify/expand or relocate if required
Simple in design and construction
In case of power failure retrieval can be done through ramp
Competitive construction cost in comparison to RCC
Going vertically saves lot of space especially in busy areas occupancy early realization on investment.
No peripheral cladding or covering system .Periphery can be pre-planned for advertising panels for revenue generation which is additional source of revenue.